Being a fan of the MTV reality shows Laguna Beach and The Hills,
I have always loved Lauren Conrad.
She has definitely come a long way from her days at Laguna Beach. Her style quickly evolved from California-casual to just the right mix of classic girl and trendsetter. Not only has her fashion sense changed, but she has also grown a lot career-wise. We could all learn a thing or two from this chick! Below are three of my favorite LC "projects":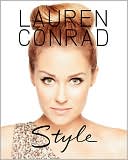 Barnes & Noble - $11.10
1. Lauren wrote the book
Lauren Conrad Style
in October 2010. I'm reading it now and wondering why I hadn't picked it up sooner. LC shares loads of amazing fashion tips and how-to's in this book: f
rom organizing/cleaning out your closet and building a wardrobe, to topics such as altering your clothing and DIY jean washes. There is even a section dedicated to beauty with separate chapters on makeup and hair. I haven't yet made it to the last section on lifestyle, but I am sure it won't disappoint! I recommend this book to anyone who loves fashion, needs to revamp their closet, or simply needs a little guidance in creating their own unique look.
2. Lauren's latest endeavor is The Beauty Department, which is not only a blog but also a community with lots of great information, tutorials, and much more. Below is their very first post.
If you love talking about fashion, makeup, and hair this is a site that you definitely want to join. You can follow The Beauty Department on Twitter via @TBDOfficial and like them on Facebook here.
3. I am loving the LC by Lauren Conrad collection sold exclusively at Kohl's. If you haven't checked it out yet you should - like right now. I won a Kohl's giftcard through a blog giveaway back in March. You can guess what I spent it on! I recently placed the order online and I'm impatiently awaiting the items to arrive. I will be sure to post pictures when they do!
I can't wait to see what Lauren has in store for us in the future. She is a stylish, talented, determined, and successful young woman
with lots of potential, so who knows what she will accomplish next.
Like I said we could all learn a thing or two from her!
I haven't checked these out yet, but if you are into chic-lit...
LC's series of novels - The L.A. Candy Series:
[ L.A. Candy
]
[ Sweet Little Lies
] [ Sugar and Spice
]